Not all students who need writing assistance stoop to pay online services for crafting academic papers for them. Many just need a little push to do the job themselves. That's exactly what academic databases for students – the collection of samples of all shapes and sizes that can serve as sources of inspiration or writing models to follow. Below we review the MagicLearning company and explain how their website can help students overcome writing struggles.
MagicLearning Examples Database Main Features
The first thing one must acknowledge about the MagicLearning.com essay samples database is that it's one of the largest suchlike directories on the Internet. It includes over 1.000.000 papers of all types and academic levels! The second thing you must know – it's paid (more details on that later).
Unsurprisingly, the lion's share of them are essays of all kinds – that's the most popular type of written task assigned to high school, college, and university students across the US. However, you can also find here example research and term papers, reviews, reports, case studies, course works, various assignments, statements, letters, and even full-fledged theses and dissertations. By the way, type of paper is one of the characteristics used for samples' categorization; others are topic and subject.
An alternative way to browse the Magic Learning database involves searching the directory by keywords or phrases. It takes several seconds for an on-site search engine to return results, which you can also refine using several filters. Remarkably, all samples are downloadable – it takes just a click to save a file in .doc or .docx format to your device. The download option is available both from the list of samples and from the particular example's full-text page. Overall, the website's usability is well thought-through and lets users minimize the time required to find relevant papers.
Another aspect we cannot ignore is the samples' quality. On the one hand, it's hard to expect that each and every paper in such a vast database will be equally well-crafted. On the other hand, we cannot but admit that out of several dozen samples we've read and downloaded, about 60% clearly were top-notch, another 30% were of good quality, and the rest were quite average. Well, they say there's always space for improvement.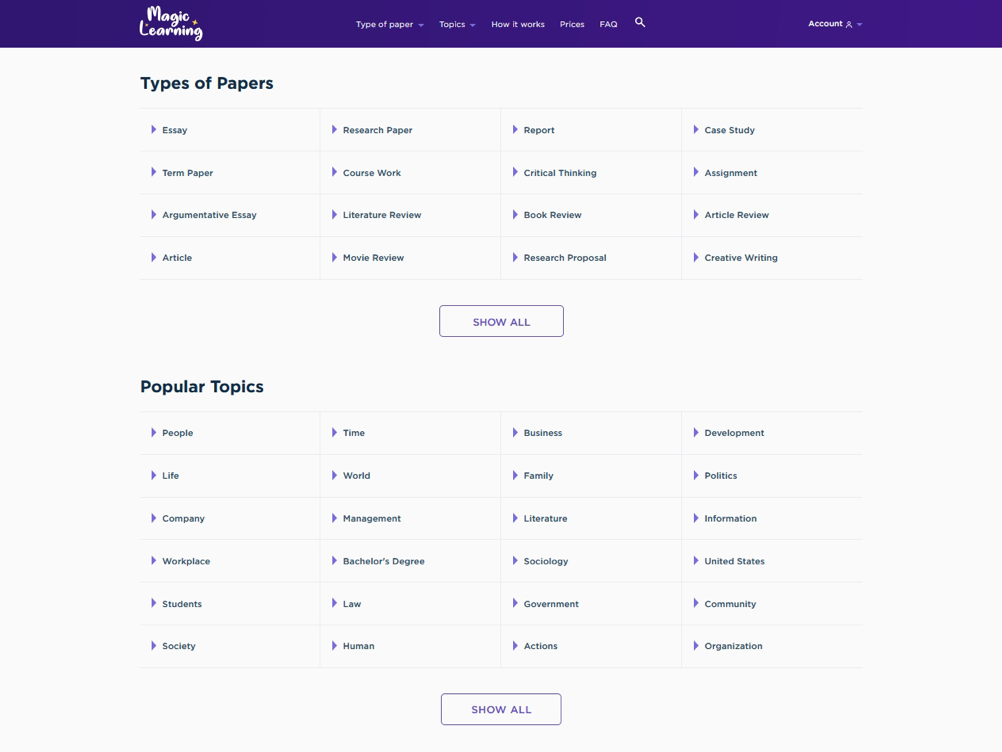 Money Talk: Four Subscription Plans & No MagicLearning Discount Code
Magic Learning is a subscription-based service. This means you must pay the fixed sum of money for a certain period of using samples. At the moment, four subscription plans are available:
7 days for $9.99 – you can view this plan as a kind of trial.
1 month for $36.99 – a good option when you know that you have a lot of writing to do the next month and want to have a plan B in case the Muse leaves you one-on-one with your tasks.
3 months for $59.99 – a semester-long subscription can be very helpful!
6 months for $86.99 – if writing by examples is your thing, this option is right for you.
Every subscription plan gives you access to all of 1 million samples, unlimited downloads, and chat support. By the way, chat is the only means of communication available upon MagicLearning.com sign up. And, honestly, we cannot imagine why you might want to get in touch with support unless you have some payment issues.
The subscription model doesn't stipulate any discounts or refunds as you don't place a separate MagicLearning order and can download hundreds of samples in just a day. Also, pay attention that a 7-day subscription turns into a 1-month plan unless you cancel it. Other plans are recurring, meaning their cost will be automatically charged at the beginning of each subscription period.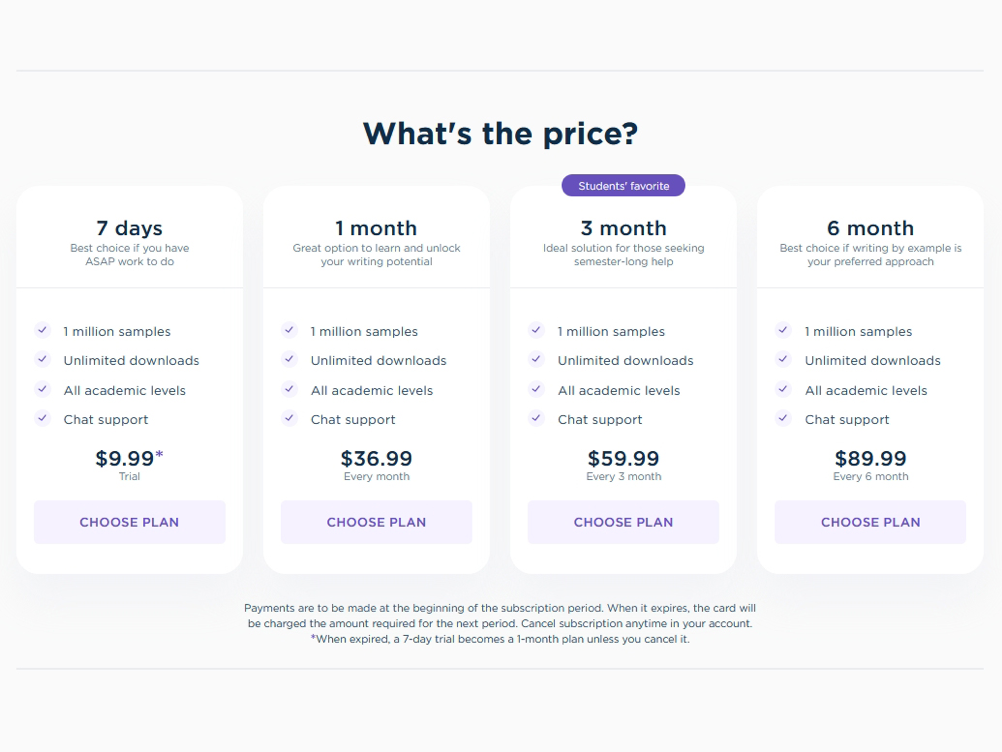 Practical Uses of Essay Examples
Why pay for samples and how to use them if the Internet is full of free stuff? The answer to the first part of the question lies in the field of samples' quality and variety put together in one place and wrapped in a convenient interface. Regarding practical uses of example papers, here are several thoughts:
Draw topic ideas and content presentation techniques.
See how any type of paper should be properly structured.
Find new information and data sources in samples' references.
Improve your writing skills by spotting and exploiting the best practices from high-quality examples.
That said, remember: browsing sample databases – all of them, not just MagicLearning – requires time and, eventually, doesn't obliviate the need to craft a paper by yourself.
Is MagicLearning.com Legit?
Is MagicLearning fraud? No, it is an absolutely legit service. The issue might only be with how you would use access to samples. Unless you try to submit the downloaded example paper as your own – you're all good. Otherwise, virtually any plagiarism-detection system will most surely red-flag the piece. But that's not MagicLearning's problem, is it?
MagicLearning Feedback & Online Reputation
MagicLearning.com hit the market quite recently. Hence, there are few customer reviews on platforms like Sitejabber or Trustpilot. At the same time, we've found several appreciative comments on Reddit and a couple of mentions in digests and blog posts about the best and the largest sample databases for college students.
Overall, like any other sample directory, MagicLearning.com cannot replace a custom writing service but is a useful option if you just lack a spark to ignite your own creativity and writing enthusiasm. Trying at least a one-week subscription might be well worth it and let you decide whether such writing assistance is what you really need.