Summary: An online database of essay samples PaperDue.com will aid you with the handy writing tools – and surprise with the hidden payments. You shouldn't neglect it completely but might wish to look for a bigger resource with free services.
Let's be honest: the majority of written assignments are no piece of cake. Even if you are lucky to be researching an interesting topic, your teacher's intricate requirements and lack of valid data can make the task grueling. Add a deadline that hits tomorrow morning, and you've got a recipe for disaster. In such a situation, having a clear writing pattern in front of your eyes can bring real relief. But where do you find one or several good exemplar pieces? PaperDue is one of a few paid online databases that provide students with essay examples they can read and analyze while composing works of their own. In this honest PaperDue.com review, we try to reveal the major pros and cons of the service. Find out the truth about Paper Due now to decide if this service is worth your trust.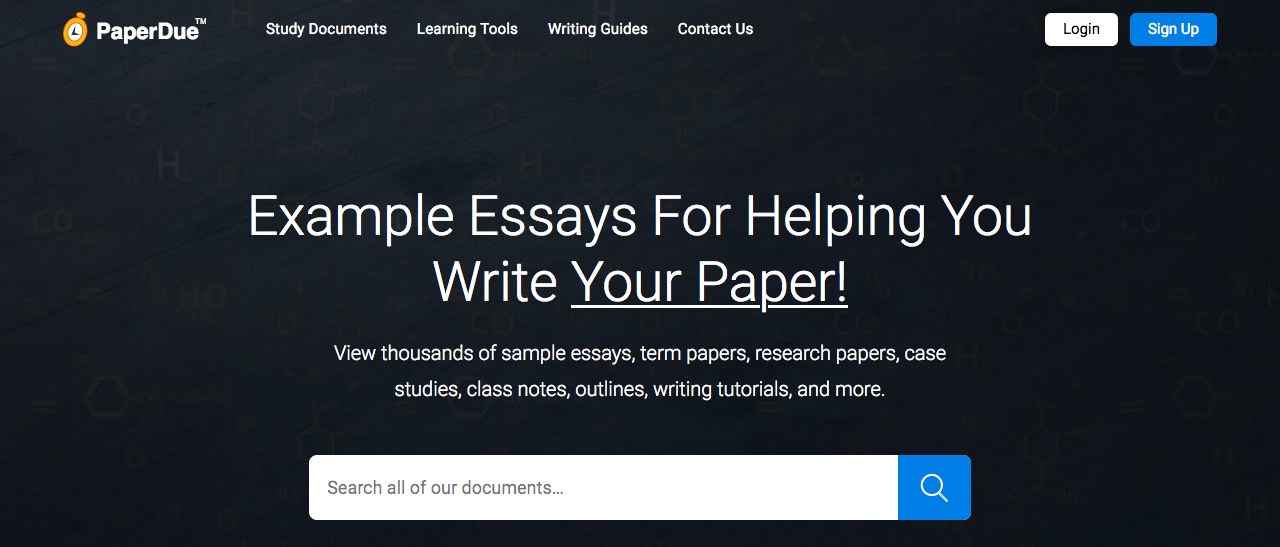 What Is PaperDue? Basic Info
What is Paper Due? It is an online database that assembles thousands of essays and research papers for students to use as writing models. The service can provide you with fresh content ideas, help structure your work, or figure the nuances of citation styles. The overall idea seems good, but there's just one catch: the service isn't free, and you might not realize it until you try to download a document that you've liked. While samples' previews are open, it turns out that full-text versions become available only with a paid membership. When you try to access a sample, the website requires to "Activate Your Account" and immediately offers to "Select Your Plan," with a 7-day trial being the cheapest one at $6.99. Thus, ads about PaperDue free download opportunities the service boasts all over the Web are nothing more than just a marketing bait.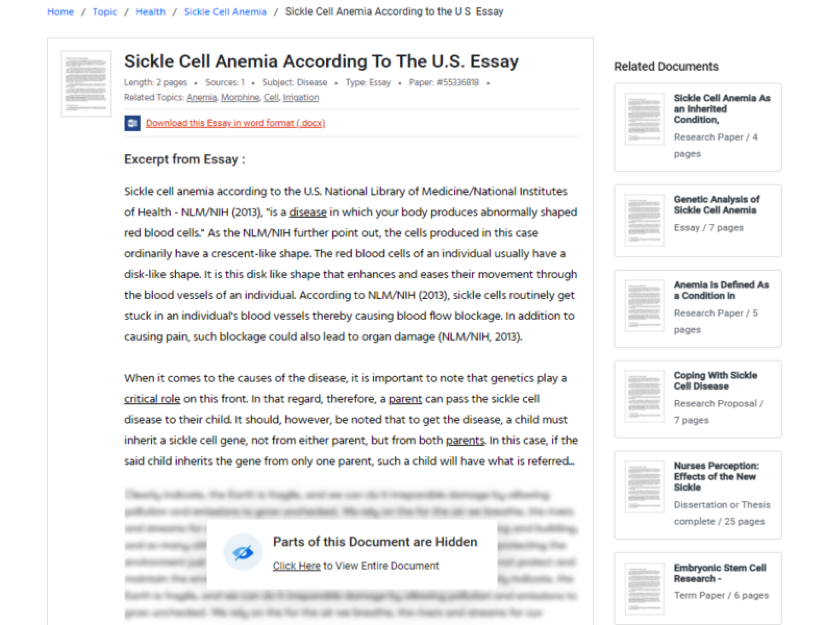 On the upside, PaperDue.com offers some helpful writing tools for free, including essay outline, title, and flashcards generators, plagiarism checker, etc. You also can find an array of detailed guidelines on various citation styles and types of academic papers here and some effective writing tips in a blog.
A word on the service's online tutoring forum that PaperDue promotes as a free way of getting qualified homework help from professionals and an easy way out for struggling students. Determined to check the expertise of the PaperDue tutors, we placed my question on types of a particular disease – and got a detailed answer within 24 hours. However, a simple check showed that it was almost wholly copied from Wikipedia (sic!).
People Talk: Paper Due Reviews Across the Web
Although the website is old (operating since 1999), it's not mentioned much on popular customer reviews platforms. Existing PaperDue.com reviews are scarce and mixed: while some sound cautious, others claim that the service is helpful and reliable. Keep reading my report to see what we found out first-hand.
PaperDue Discount Code, Prices, and Samples Quality
As mentioned above, Paper Due is one of a few paid sample databases. While the minimal $6.99 charged per one-week access doesn't seem expensive, not every student is ready to pay a monthly fee of $26.86. Besides, not all samples are worth that money: while some seem well-structured and credible, the others clearly lack the expertise; the search tools are limited and puzzling. It took us a while to select an apt sample on Sickle Cell Anemia because – even with the various filters (e.g., the number of pages, topic, keywords) applied – the engine kept showing unrelated documents.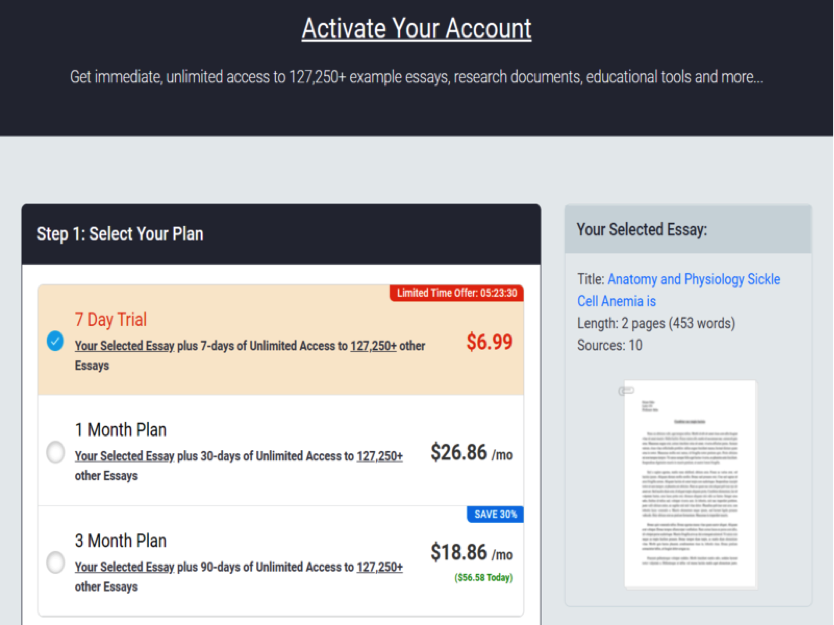 The number of PaperDue entries – almost 130K – is rather humble as compared to the similar database websites; we cannot but mention that one can get a much better value for the money. The service does have some special offers; discount codes can be provided by the site support representatives.

PaperDue.com Account Peculiarities
Let's say you decided to give PaperDue.com a go and paid for a 7-day trial. But once it expires, you might face a problem many inattentive users complain about: the unexpected changes in your billing cycle. The thing is, unless canceled within a week, your trial plan turns into full membership, hence charging you a monthly fee by default. This frequently becomes a problem for PaperDue users and makes them wonder how to cancel subscription. The service claims you can do that in six ways: through a cancel account page, via live chat, e-mail, phone, fax, or in the Account Settings using your PaperDue login.
Is PaperDue Legit?
As any prospective user, you surely wonder whether it is safe to use PaperDue.com. I haven't spotted any evidence of this service being involved in any kind of scam scheme. Paper Due has a clear refund and money-back policy. Besides, they claim to run a virus check for each sample before it gets downloaded to your device. And, of course, you must understand that while using samples for inspirational purposes is absolutely legal, trying to submit it as your own isn't. Plus, checkers like Turnitin will easily detect and red-flag non-original content.
Final Rating
With paid access, a limited number of essay samples, and confusing search tools, the PaperDue.com online database can be called average. Most likely, it wouldn't disappoint you completely, but you can definitely get a better value for your money. Our rating is 3.5 of 5.