Summary: StudentShare.org is an online essay sample database that claims to help students craft their papers by providing vivid examples of previously written academic works. This service can be really useful if you know how to use it – as a source of inspiration, interesting topics, writing templates, etc. The catch is you must have enough time for all that.
Being in search of college paper writing services to review, we came across StudentShare.org. This site seems a bit specific to me because not only it offers writing help but also offers access to an essays database with hundreds of academic sample papers on most various topics. Remarkably, there are some completely free essays online and some you have to pay for. We decided to buy a subscription and try to figure out whether such an approach can help students craft their papers easier and faster. Find the answer to this question in this review.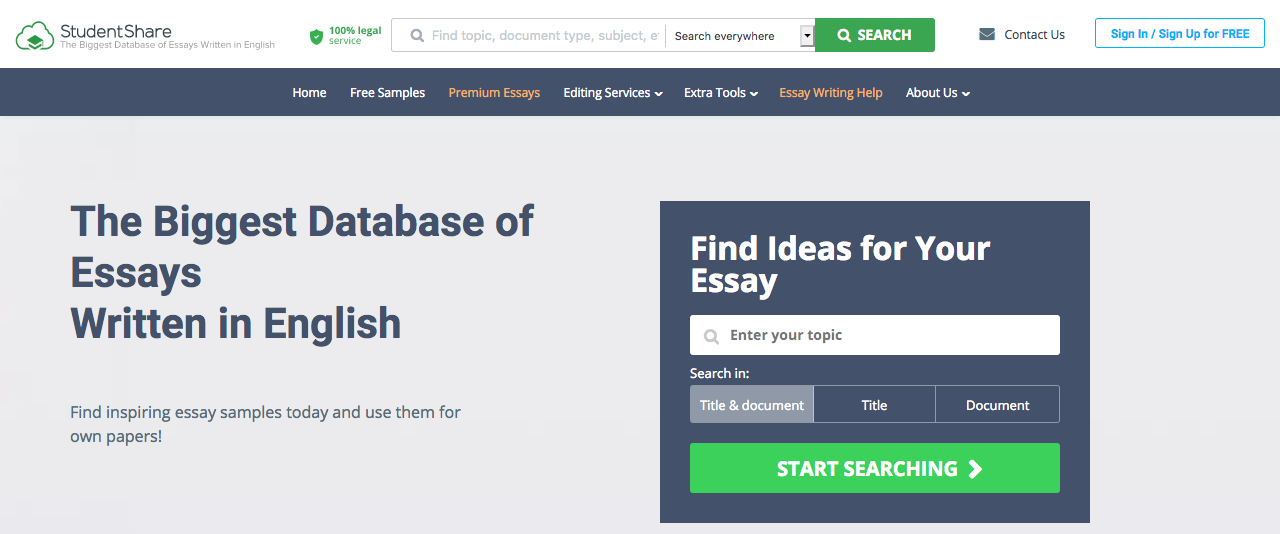 StudentShare Premium Essays Database and Other Services
The Web is full of websites that offer the same services, products, tools, utilities, etc. Contrasted with most of them, StudentShare.org looks like a new and fresh academic writing idea. They provide a huge number of various pre-written papers a user can benefit from. The sample database lets you, for example, find essays online and draw content structuring examples from them, dig up concepts for original essays, take note of the best writing practices, etc. It's expected that the discovered Student Share ideas would help high schools, college, and university goers accomplish their written assignments easier and faster.
Although, in theory, this seems like a pretty useful thing, in real life, it is marred by the platform's shortcomings.
Firstly, all free samples (and most of the paid ones) fail to impress with their quality. Many of the papers required significant revisions in terms of content and grammar.
Secondly, there is a very confusing subscription system. Information about conditions and prices (as well as the possibility of downloading papers) is shown only when the user signs up.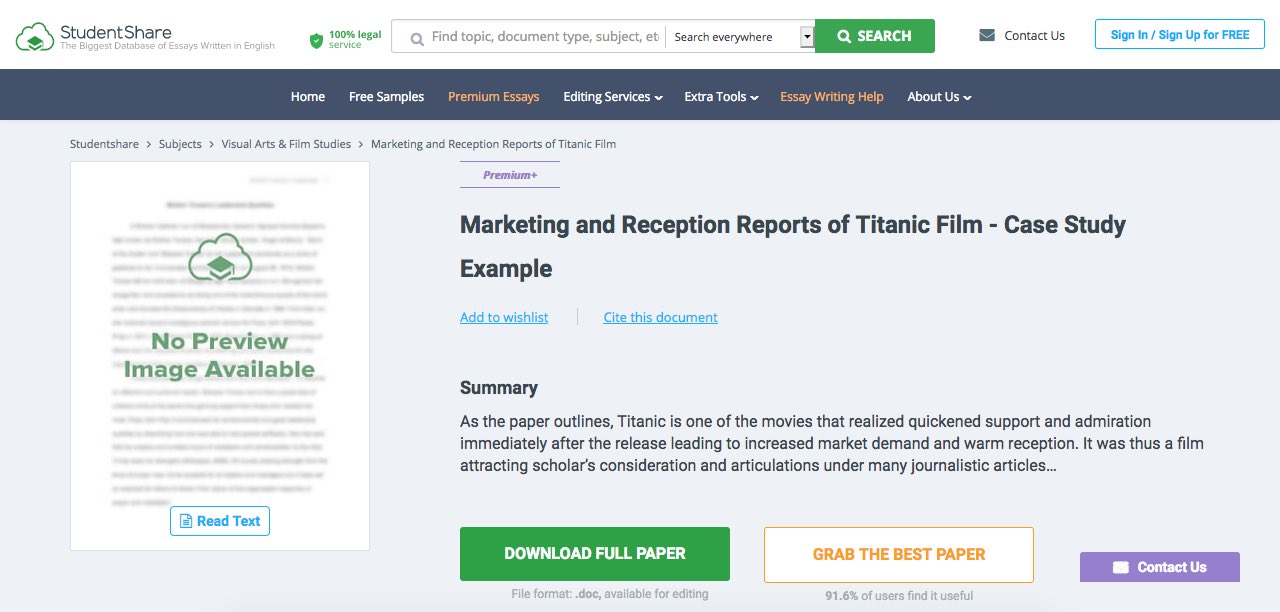 Even though the company has welcomed the free essay opportunity, finding a suitable essay among free materials is difficult. To access premium essays, you need to pay for a subscription. Fortunately, the prices are quite low – about $20 for a monthly plan and a little cheaper if you pay several months in advance.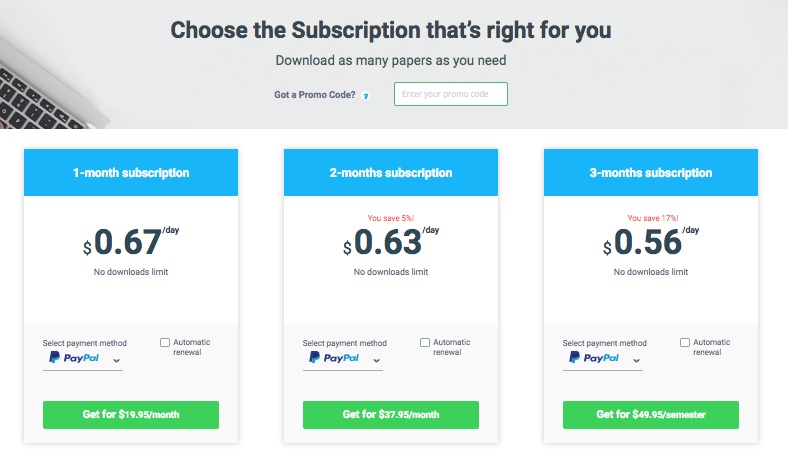 StudentShare.org also provides some extra features for free, including the ability to ask other users a question, a GPA calculator, thesis and topic generators, and various writing guides.
Some of the services are paid (above the subscription price):

Some of the premium features are really useful – for example, the ability to hide the selected sample from other users and to get a paper rewritten to avoid plagiarism.
When it comes to their support service, it's rather slow. The only way to get in touch is by email – a seemingly outdated for the industry and inconvenient way of solving the problem, isn't it? In fact, when it comes to the support and delivery, you can't really complain because StudetShare doesn't sell custom-written papers.
Student Share Website Reviews
After studying numerous Student Share reviews, I've come to the conclusion that this site is a bit controversial in terms of public opinion. But most of those who gave feedback find the service quite useful – at least for a short period of time. Dissatisfied StudentShare clients are rare, and mostly they brag about inconvenient subscription system.
StudentShare Promo Code
The thing I liked was the opportunity to get a discount on their services. Student Share promo code can be found directly on the site in the form of pop-ups. They typically offer 15% off on subscriptions and up to 20% off on extra services.

Is Using Student Share Plagiarism?
When you download a paid paper from this database, you can be somewhat sure about its quality. But free essays samples are not checked with plag detectors and can be uploaded by anyone. So is StudentShare reliable in terms of originality? Yes – but only because they never claim their papers to be unique. If you're looking for a ready essay to be submitted, this site is not an option. You may simply end up taking the blame for plagiarizing – a pre-written paper will never be as original as you need.
Is StudentShare.org Legit?
One of the main questions that come to every user looking to use this service as a writing assistance tool is "Is StudentShare legit?" Well, you have nothing to worry about if you're not going to submit the downloaded piece as your own. Using samples for inspiration isn't prohibited by any legal regulation.
The good news is that the prices are low. The bad news is that the website charges more than you assume: signing up and some essays are free, but you'll have to pay for really useful things. It's not the best place for a free essay download: you are unlikely to find a test answer sample or an A+ research paper among the free materials.
Service Rating
Given all the advantages and disadvantages, StudentShare.org looks like a bait for users to impose their writing services on them. If you can separate the wheat from the chaff, then using the service is worth considering. With enough passion, you can find the good stuff here.