In this review, we are going to examine a service that conceptually differs from the vast majority of companies we have tested and described before. The thing is, WowEssays Premium embraces a precept that the best college essays are the ones developed by students themselves. In this vein, the website offers paid access to a huge sample essays database, claiming it could serve as a great source of inspiration, original ideas, and top-notch model papers students can use as templates. Does this model really work and is the WowEssays Premium subscription worth trying out? Read on to find out our verdict!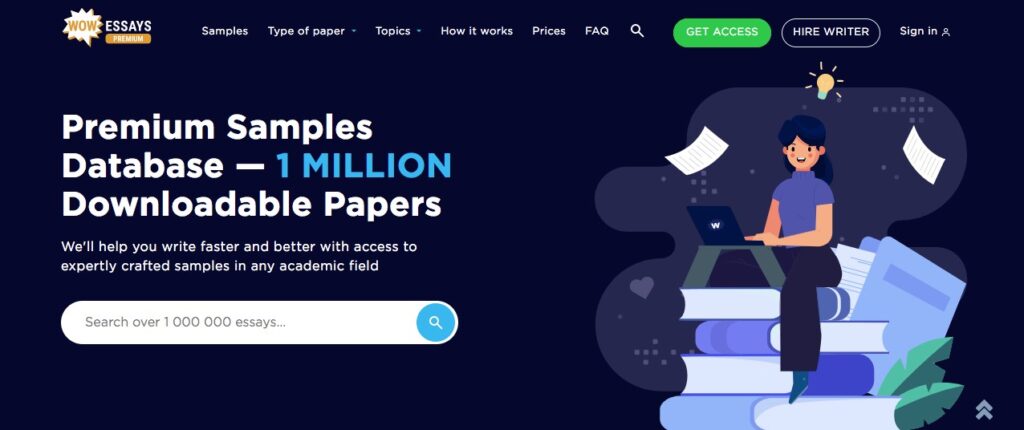 Essay Mill? More Like Sample Essays Search Engine
For starters, let's gloss over the WowEssays Premium's main features and operating principles to get a better idea of how the service is different from mainstream writing mills that solicit premium essay help.
The main point, as previously noted, is paid access to an enormous database of already crafted (quite possibly, over several years) academic paper samples of all types, shapes, and sizes. Hence, students who struggle with writing assignments but for some reason still don't want to pay online writers to do the job instead of them can find here a piece to give them creative push or provide with a solid template to base their paper on. To locate samples, you can either browse subject and paper type directories or use the built-in search.
"But why do I have to pay for samples here if there are dozens of free sample databases on the Web?" one might wonder. Well, our guess is because of the wide choice and ability to download samples WowEssays Premium offers. The service claims to provide access to over 1 million downloadable pre-written examples. We didn't count them, but there are definitely more of them than in any other sample database we've seen before. That was one of the reasons we decided to check it out and review it. Another argument was that we already had a positive experience working with the WowEssays.com custom writing and editing service; it's always interesting when an established market player offers something new in this rigid business. That said, WowEssays Premium has apparently launched not that long ago as I didn't manage to find credible user reviews on Reddit, Trustpilot, or Sitejabber.
Pricing Issues: Is It Cheap to Buy Pre-Written Essays Database Access?
Let's cut straight to the point – how much does it cost? WowEssays Premium is a subscription-based service with four plans. There's no free trial; however, you can interpret the cheapest plan as such – it is for a week, comes at $9.99, and doesn't have automatic prolongation. Other plans have a duration of 1, 3, and 6 months and cost respectively $36.99, $59.99, and $89.99. Available payment methods include standard options – Visa, MasterCard, Discover, and AmEx.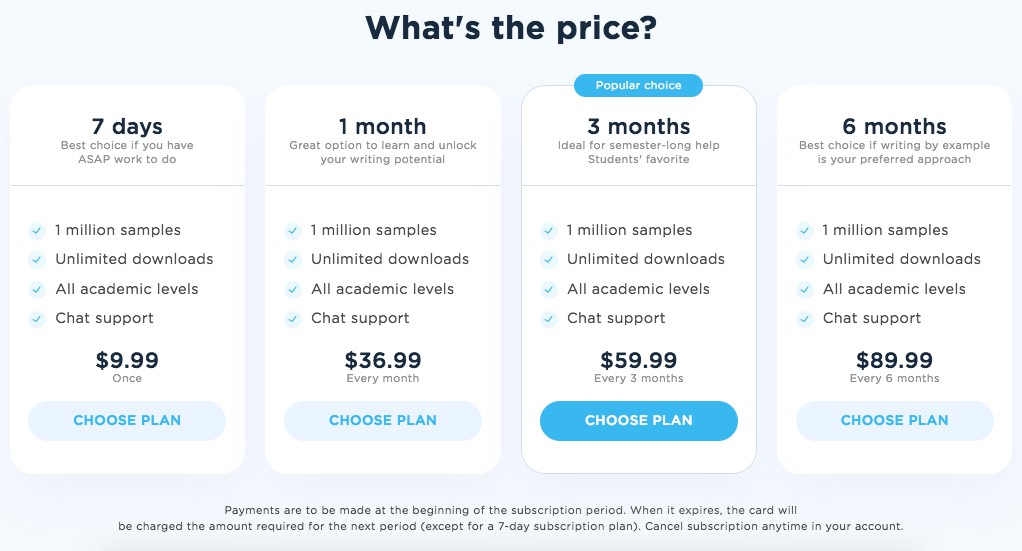 As a support manager explained to me in an on-site chat, there's no difference between the plans apart from the cost and duration. All of them let you access all samples (just to remind you, there are over 1M of them) regardless of their academic level. Also, you get unlimited sample downloads – and this is what differentiates WowEssays Premium from other databases that offer pre-written essays for sale and diversify their subscription plans based on the number of downloads.
To close down the pricing topic, we can only mention that we didn't find a welcome discount code for first-time subscribers nor any other saving opportunity like Loyalty Program. The customer manager, although being very polite and quick to answer, confirmed that they don't yet have special offers available. At the same time, he reassured us that once they pop up, we'll be notified via the email we used for registration.
Using Wow Essays Premium Essay Finder
To start using the WowEssays Premium sample database, you obviously must register first. Well, actually, you can browse the database without logging in, but you will only be able to see the sample's title, specifications (type, size, key topics), and short preview. Of course, the downloading option is unavailable for unregistered visitors.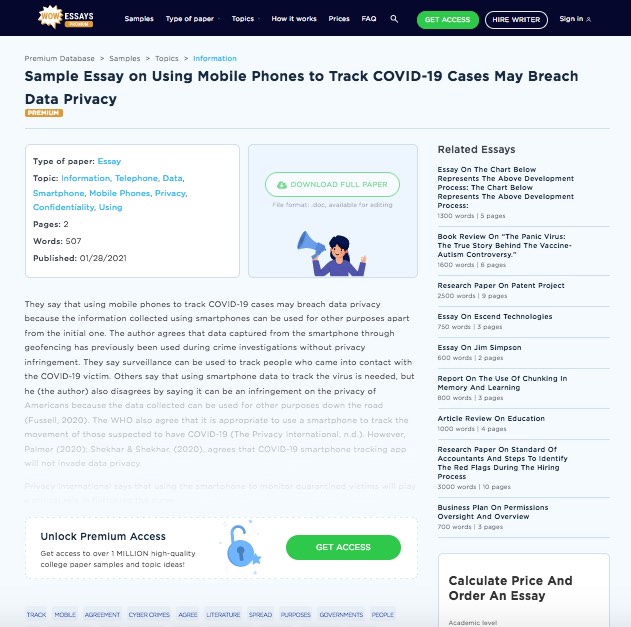 The registration process involves just three steps – entering an email/password, choosing a subscription plan, and processing the payment. Once the payment is confirmed, you instantly get full access to the entire sample database.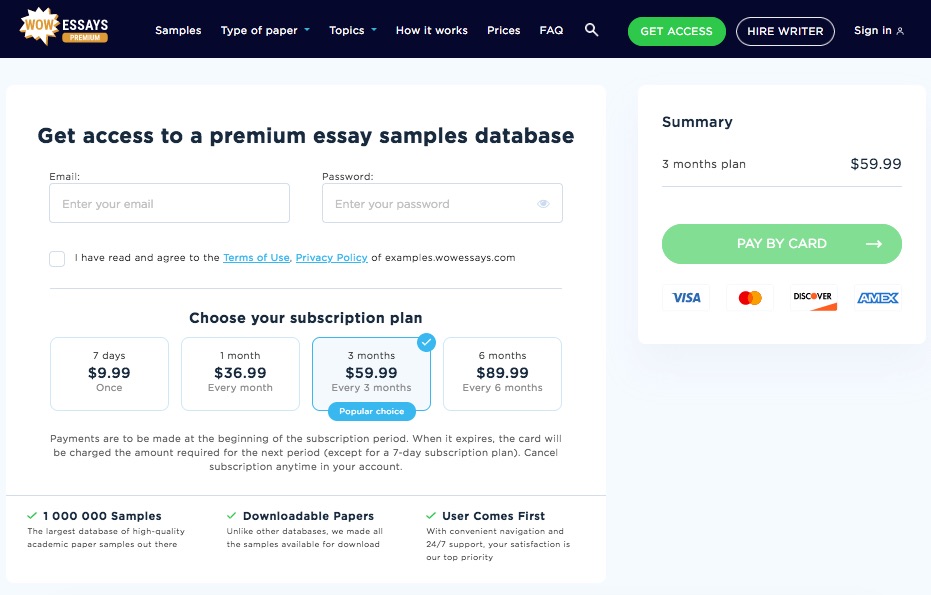 To find essays or other paper samples, you can enter keyword(s) in the built-in search engine and then narrow down the results by applying 'Type of paper' and/or 'Topic' filters. Alternatively, you can simply browse samples classified either by paper type or topic, hoping to bump up against a decent piece of writing. Once you open a particular sample, you see its full text with references and the download link (usually, in .doc or .docx format) – everything's pretty straightforward.
Based on several dozen samples we've checked out, it would be a little too soon to certify that the database includes 'the best essays ever written,' but what we've seen made a good impression. To increase chances of finding the most appropriate piece, we suggest that you first and foremost check out university and PhD-level samples even if you actually need a paper for college.
Custom Papers vs. Already Written Essays Samples
Considering that Wow Essays Premium is the first paid sample database that made it to our chart, we feel the need to emphasize this type of service's peculiarities. After all, paying specialized companies for unique papers crafted according to your instructions doesn't leave too much space for interpretations: you buy it, change a bit (or not), put your name on it, and submit it. It is not fully legit, but almost surely safe due to strict confidentiality measures such services take.
However, if buying papers written by someone else is not an option for you (be it because of your adherence to the principles of academic integrity or custom essays' expensiveness), access to inspiring and idea-pitching samples could be just the right solution for you. In case you're one of those users, wondering, "Where can I find already written essays to boost my writing enthusiasm?" – you might want to try WowEssays Premium.
WowEssays.com Premium Essay Database Verdict
Overall, WowEssays Premium left a good impression in terms of usability, support, and samples' quality. In addition, it's one of a few sample essay finders that offer unlimited downloads even in short-term subscription plans that come at quite affordable prices (starting at $9.99 – a market-average price per page of high school-level writing). On the other hand, it's obvious that not every student will be able to appreciate the practical value of samples, especially when there are dozens of websites ready to deliver you an original paper in a matter of hours (hell, WowEssays Premium has a separate service for that, too). Yet again, this sample database clearly targets another market niche, which is actually much closer to providing academic assistance than writing papers instead of students.